With every Numat rubber mat installed, you improve the health of your cows which, in turn leads to greater milk yields and lower claw treatment and stock replacement costs.
Studies show that rubber matting has a positive impact on mobility and hoof and leg health. The softer underfoot conditions provided by rubber mats reduces pressure on the hoof and reduces lameness.
Ensuring the surfaces around your dairy shed are comfortable and non-slip, is one of the best ways to increase cow confidence and productivity, and reduce injuries on the farm.
When cows are hesitant to step into the milking shed it increases time and effort and decreases herd health and quantity of milk flow. Rubber matting can help reduce stress and get your cows flowing.
Rubber matting on your yard provides a compliant stand-off pad for a fraction of the cost of building a new stand-off pad. In most cases, the effluent management system is already built into the yard.
Given the choice, dairy cows would prefer to walk on rubber matting. In this video, we set up two strips of rubber on a concrete exit race to put this idea to the test. Watch the video to see what happened.
Premium interlocking mat with mosaic profile and thick studded base.
W: 1190mm x L: 850mm
Thickness: 25mm
An ergonomically designed pit mat that delivers proven comfort, grip, and safety. 
Comes in both raw sheets and custom cut interlocking edges. 
An economic mat with a number of applications. Cellular profile, ribbed base. Great for stables and deer sheds.
Width: 1000mm | Length: 1000mm | Thickness: 12mm
Economically priced multi-use mat with thick rubber studs on both the surface and underside.
W: 1000mm x L: 1000mm
Thickness: 23mm
Heavy-duty feedlot mat with hoof-stopping lugged profile.
W: 900mm x L: 2100mm
Thickness: 20mm
DairyGrip by RubberGem is a heavy-duty yet economical option for tracks. 
W: 1.8m x L: 30m
Thickness: 22mm
VGrip is a hard wearing rubber mat with V-shaped cleats. Perfect for slopes and high pressure areas.
Options
Roll width: 2000mm | Roll length: 30m | Thickness: 18mm (10mm base with 8mm cleat)
Roll width: 2400mm | Roll length: 30m | Thickness: 18mm (10mm base with 8mm cleat)
Henry Schipper installed Numat rubber matting on his yard in Kopaurahi in 2010, after major issues with pugging in wintertime. "Since we've put the matting down, we've had basically no bad hoof problems, nothing like we used to have."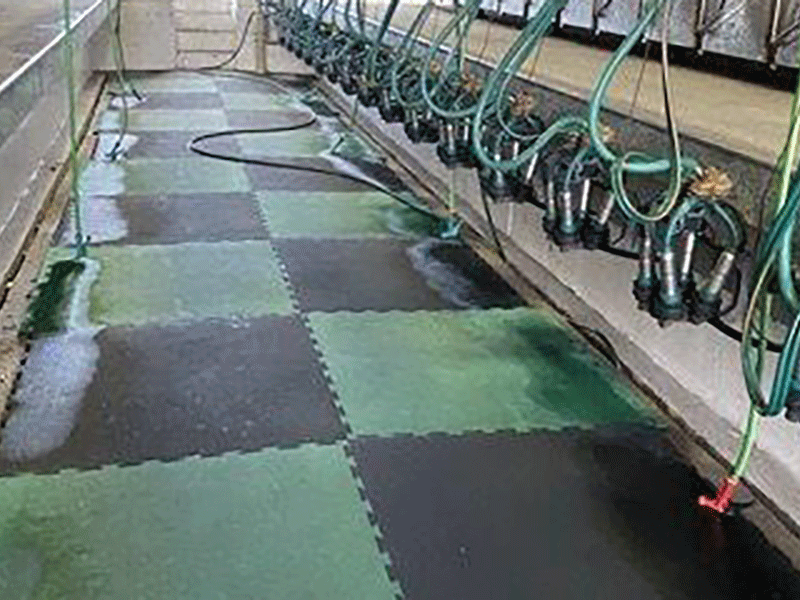 Download this free handbook!
The benefits of rubber matting.
This free handbook showcases 14 real dairy farms and reveals how rubber matting has helped reduce lameness, improve cow flow, and provided a vital pasture management tool.  
If you're looking for a price on a specific mat, or volume pricing on multiple mats, we recommend you get in touch with our sales team. They have the experience to match the right mat to your situation.